Science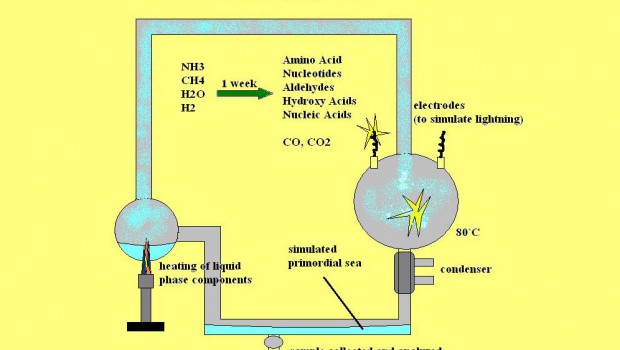 Published on January 25th, 2023 | by Madhudvisa dasa
15
Urey/Miller Experiment. Life from chemicals?
Urey and Miller followed the scientific method. Chemical compounds used by biological organisms were created using conditions simulating primordial earth, strongly suggesting that this method could eventually produce all the necessary compounds to allow the life force to settle in this realm.
In 1953 Urey and Miller, performed their famous expirement. Many say they proved life can come from chemicals. Their work ties in very nicely with the Big Bang Theory arising from Albert Einstein's work and Charles Darwin's theory of evolution. Starting with some elements presumed to be present in the primordial atmosphere (carbon dioxide, water, ammonia, hydrogen, methane, etc.), Miller and Urey were able to produce some amino acid precursors. From the Urey/Miller experiment it has been hypothesized that random combinations of chemicals present in the atmosphere of the primordial earth, helped along by lightning, produced the chemicals which are the building-blocks of the amino acids. Of course we still have a very, very long way to go before producing life! The experiment did not produce amino acids, only some chemicals which may lead to the development of amino acids… And amino acids are not life either…
We can observe the chemicals were not produced by chance combination. The whole experiment was carefully supervised by the scientists.
The chemicals were measured and added at the correct time and the electric spark was administered at the right moment. Therefore, it does not prove precursors of amino acids can be created by random combination of chemicals.
It only indicates they may be able to be created in a controlled laboratory experiment carefully supervised by intelligent beings.
The chemicals didn't mix themselves. The scientists mixed them. Proving scientists can manufacture the precursors to amino acids from chemicals they have in their laboratory does not prove that life can come from matter simply by random chance…
One scientist has offered this explanation: "In the stages of the early earth, ammonia, hydrogen and water vapor were more abundant, so they were likely to already be in close proximity (i.e. "combined") during a lightning storm. There's your Urey/Miller experiment with no scientist, no gods, and no spiritual touch. Satisfied?"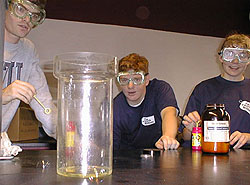 Evolutionists and many scientists have a "religious" belief that life comes from chemicals, however, when asked to prove it they find it impossible. It's simply a belief based on blind faith which denies the evidence we see all around us. We see everywhere life coming from life. There is no case in recorded history where life has come from chemicals. Even though some evolutionists say the Urey/Miller experiment proves life can come from chemicals, the experiment only indicated some of the precursors to the amino acids may be produced in a controlled laboratory experiment under the direction of intelligent scientists. When asked to prove life comes from chemicals evolutionists can say some very strange things:
"PROOF: My parents are made of matter. I came from them. I am alive. Therefore, life can come from matter. Proof complete."
His parents are conscious, his parents are alive. They can produce him only because they are conscious, they are alive, but if his parents are dead, although their bodies, the matter, is still there, there is no chance of producing life from the dead parents. The life is gone, only the matter remains, so matter cannot produce life, only life can produce life.
His parent's bodies are matter. The same components (earth, water, fire, air and either) are found everywhere in both living and non-living things. The difference is the spirit-soul, the consciousness. His parents can only conceive him if they are alive. If they're dead they can't produce anything. If they're dead, from the material point of view, from the chemical point of view, nothing has changed — everything is still there — but the consciousness is gone, the life is gone. You can't bring back that life, that consciousness, by science. It's that consciousness which science has somehow missed.
Another evolutionist asserted: "Living beings are nothing more than pieces of matter organized in particular ways. When we look at living things, all we see is organized matter. Science confirms this. If you think that there is more to life than matter, then I challenge you and Krishna to prove it."
If it's that simple why can't the scientists organize some pieces of matter in a particular way and produce something living? Then they could speak. That would be proof that life can come from matter. But without any proof and without any hope of proof in the future they are speaking so much nonsense!
My spiritual master, His Divine Grace A.C. Bhaktivedanta Swami Prabhupada, once challenged the scientists: "You have so many big, big, theories. Surely you can, with your science, produce one egg, put it in an incubator and let it hatch out a chicken. You have some white plastic to make the shell, some yellow chemical…" But no scientist was able to produce the egg.
It's clear to every thoughtful person that a conscious living being is different from dull matter. If the evolutionists want to prove otherwise it's up to them to produce the evidence. We don't have to prove that life comes from life. We see that happening every day all around us. Everywhere we see every living creature is produced from another living creature. Nature works in a symmetrical manner. We know the changing of the seasons will go on every year in the same way, we know the sun will rise in the morning. Nature does not suddenly change her way of doing things. So if life originally came from chemicals why does it no longer come from chemicals? We don't have a single case ever recorded in history of any sort of life coming from a combination of chemicals. Life always comes from life. That is natures way and that has always been natures way.
As I have my mother and father and have come from them, the whole universe has come from the Supreme Father, Krishna, God and the supreme mother, nature. The Supreme Father places the living entities within the womb of the supreme mother, nature, and in time they take birth in the 8,400,000 different species and forms of life found throughout the universe.
This is quite a reasonable proposition and it is consistent with our observation of how the universe works. The scientist's proposal, on the other hand, that life comes from chemicals, is something we can't observe happening anywhere within nature. Nature does not completely change her way of doing things. If life came from chemicals in the beginning, life would still be coming from chemicals now.
So, back to the Urey/Miller experiment. The chemicals did not mix themselves, someone had to mix them. The chemicals have to be combined by some living person. Matter cannot move without the touch of spirit. The big question is where did all these chemicals come from in the first place? Even if the scientists can explain how the chemicals can create life, who provided the chemicals in the first place?
Their standard answer is the Big Bang. "Albert Einstein's theory that all matter can be turned into energy and all energy can be turned into matter has formed the basis of all Western ideas on the origin of the universe. The Big Bang Theory, developed in light of Einstein's theory, maintains that a huge explosion about 5 billion years ago created all the matter in the universe…" Even if we are to accept this, where did the big bang come from? It's a transformation of energy into mass so where did the energy come from in the first place? Science has no answer to these questions.
Thoughtful people will see matter doesn't move by itself. It has to be touched by spirit. In the Urey/Miller experiment the spirit was in the form of the scientists and in the creation of the universe the spirit is God or His servants.
maya tatam idam sarvam jagad avyakta-murtina
mat-sthani sarva-bhutani na caham tesv avasthitah
"By Me [Krishna], in My unmanifest form, this entire universe is pervaded. All beings are in Me, but I am not in them." (Bhagavad-gita 9.4)
Another scientist argues: "Why couldn't the Big Bang be 'the source and the original source', just like you claim Krishna is?"
However, Krishna is the cause of all causes:
isvarah paramah krsnah sac-cid-ananda-vigrahah
anadir adir govindah sarva-karana-karanam
"Krishna, who is known as Govinda, is the supreme controller. He has an eternal, blissful, spiritual body. He is the origin of all. He has no other origin, for He is the prime cause of all causes" (Brahma Samhita 5.
1)
Of course Krishna may have used a big bang to create the universe… That is not completely out of the question…
Life does not come from chemicals. We know life comes from life and we are seeing it practically happening right in front of our eyes every day. Where did you come from? From some chemicals? From an explosion? From a "primordial soup" in your parents swimming pool? NO. You were born from the womb of your mother after she was impregnated with the seed by your father… It's a very simple thing. You didn't come from a chance chemical combination or a murky swimming-pool… You came from your parents. Life comes from life. Life doesn't come from matter!
There are some other articles you may also find interesting.