Book Distribution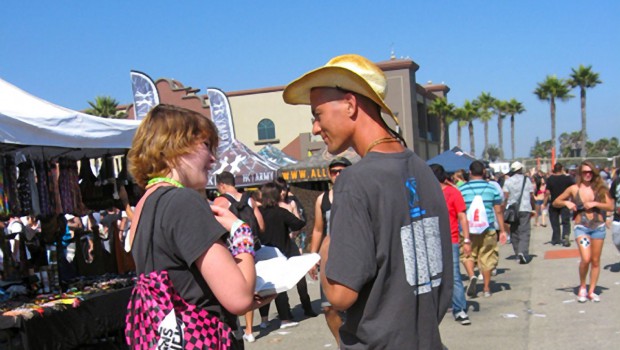 Published on July 19th, 2013 | by Prahlad-Nrsimha dasa
3
Astonishing things happen on Book Distribution!
The other day I was at a tech school, one of the best and most expensive in the country (about $40,000 a year). It's very difficult to get into that school, so naturally all the students there are quite together and smart. It was really nice to have the opportunity to give them a look at the  most valuable piece of education – Srila Prabhupada's books.
Everyone I met was very respectful towards me and what I was doing. Even the people who didn't take any books appreciated that the wisdom I was offering is at least valid and important and by this appreciation they too made advancement.
I stopped one young man and presented the books to him. He patiently and attentively listened to my spiel. Usually I can immediately tell if someone is interested or not, but with this guy I could not tell at all what he was thinking.

But he was very attentively listening so I spent a little extra time with him. Basically I just went over some of the pictures, and explained very scientifically how we are not the body because we are conscious, and our bodies are 100% composed of dead inert matter. I explained how our senses are dragging us around, trying to get us to spend our valuable lives serving the objects of each sense organ instead of our real goals in life, and how these books give us scientific answers on all this and more. When I got to the part where I asked him to please take the books home, read them and give a donation to help with our efforts to publish and distribute the books, he looked at me in a very soft way but very serious and dead in the eyes. He said, "I am an atheist. I have always been an atheist my whole life. But this is interesting." He gave me a donation and took a copy of all the books. I guess he just needed someone to put things in a way that he could understand, and to be introduced to the potency and mercy of Srila Prabhupada. With Srila Prabhupada in the center I guess anything can happen!
Later I met one guy that seemed like a real hipster and as I explained the books to him he appeared very interested. When it came to the part where I ask him to giving me a donation for the books he looked me deep in the eyes and said, "I am a Christian".

I immediately explained to him that these books are not a religion, these books simply help us to see our inherent nature beyond any designation, even religion. These books bring us to the essence of all religion, pure love of God. His eyes lit up at this and his wallet was whipped out, he handed me $20 and took three of Srila Prabhupada's books. Then he grabbed my hand and shook it very strongly and hard. He again looked in my eyes very deeply, and repeatedly expressed his gratitude to me in various ways. He told me, "What you're doing is such important work. We need more people like you in the world. It's so admirable. You should come here more often."
In one sense these things are not at all astonishing, actually they are very simple, brief  exchanges that only last a few minutes at most, and they happen so many times every day. There are so many stories like this that anyone can tell. All they have to do is three things:
1) Get some of Srila Prabhupada's books.
2) When you meet people in your normal daily life – at the grocery store, in a parking lot, on the street – say some pleasant greeting to them.
3) Hand them a book and somehow or other describe the book to the person and ask for a donation (or let them have it for free if you like).
The astonishing thing is that a normal conditioned soul gets Srila Prabhupada's books – personal invitations to dance with Krishna in Goloka, through these simple exchanges.

That is always astonishing!
If you would like some of Srila Prabhupada's original, authorized (pre-1978) books to bring with you in your daily life to distribute, please go to: