Chanting
Published on May 29th, 2003 | by bhakta-mason-photos-by-bhakta-charles | Full size image
0
Sankirtan in Miami's South Beach–At the Hip-Hop Festival
For four days and three nights, hip-hop parties raged at South Beach's pool decks and nightclubs as sightings of hip-hop music's biggest stars — such as Wyclef Jean, Ja Rule and Cam'ron — were as common on the streets as under dance hall lights. –Miami Herald May 27, 2003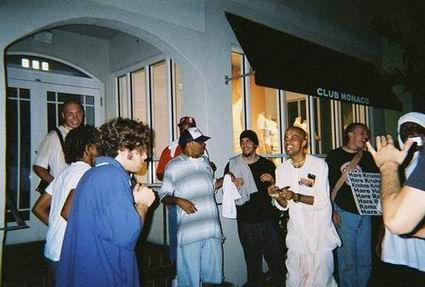 (Hip Hop remix with Hare Krishna Mantra)
Miami Beach, Florida has long been famous as a place to party, drawing thousands of people from all over the country who come in search of some reprieve from the drudgery of daily life. This Memorial Day weekend, the beaches, bars, and restaurants were full of people, mostly young, trying their hardest to enjoy life through alcohol, sex, drugs, and the like. Walking alone along Ocean Drive in the late evening, milling through the various herds of bodies, I looked all around to see who was happy, who was having a good time. I walked for an hour or more, and yet failed to see even one genuine smile, one satisfied expression. The awful fact was that no one was having fun.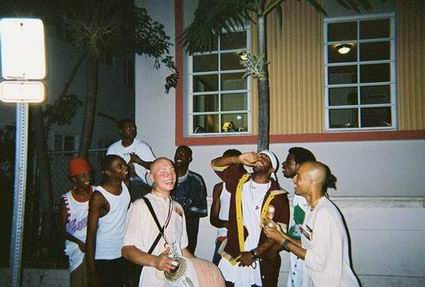 A few hours earlier, it had all been so different.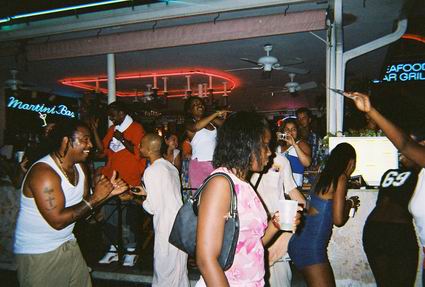 Then, wherever I looked, people were laughing, dancing, shouting and singing. The whole place seemed to be one giant party. The amazing thing was that there was only one difference between this constant jubilation and the pointless assembly I saw later:
Hare Krishna Hare Krishna
Krishna Krishna Hare Hare
Hare Rama Hare Rama
Rama Rama Hare Hare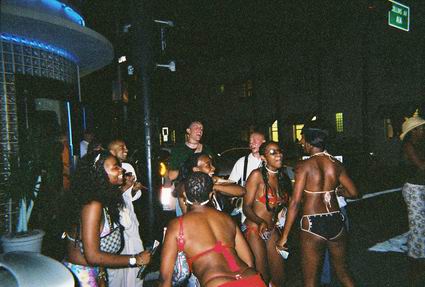 (Transcending the bodily platform by chanting the Holy Name)
The happy atmosphere I witnessed could only be attributed to the presence of sankirtan-yajna: the loud chanting of the names of God. I had the great privilege of participating in the propagation of the Holy Name, which is the special mercy of Lord Caitanya.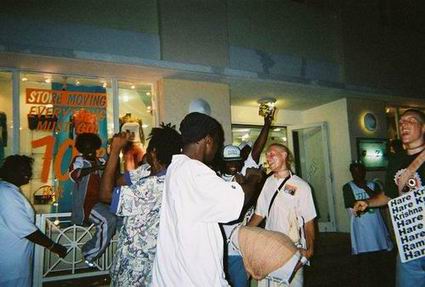 It had been only two months since the Name had brought me from the dirty streets of New Orleans and given me the association of a wonderful group of devotees, who showed me how good life could be in the service of Srila Prabhupada. Living and traveling with them, I've found much joy in chanting the Lord's names on the streets of many different cities.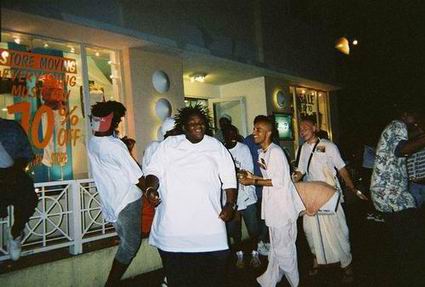 There are so many stories to tell about our week in Miami, but I'll just tell one: The last night we were in town, walking back towards the motor home to take rest, all of us exhausted and hoarse, we were unable to go more than ten feet at a time before someone would yell, " Hey, wait, where's the music?" and we would start up again, and soon twenty people or more would be dancing, clapping and yelling "Krishna! Krishna!" It took half an hour or more to go half a dozen blocks. I finally got to bed that night with the words of Srila Prabhupada ringing in my head, "This sankirtan movement cannot be stopped…"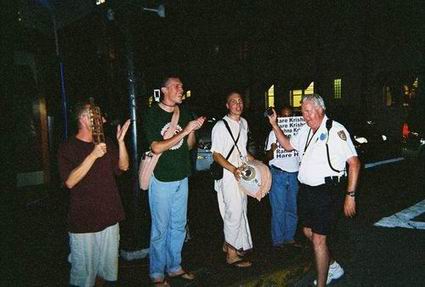 (cop calls into the station to spread the Holy Name)
article by Bhakta Mason, photos by Bhakta Charles, Kirtan by Nimai Pandit das, Vaishnava Thakur das, Bam Bam, Carlos, etc…