"And You, O [insert your name here], Can Be But An Instrument"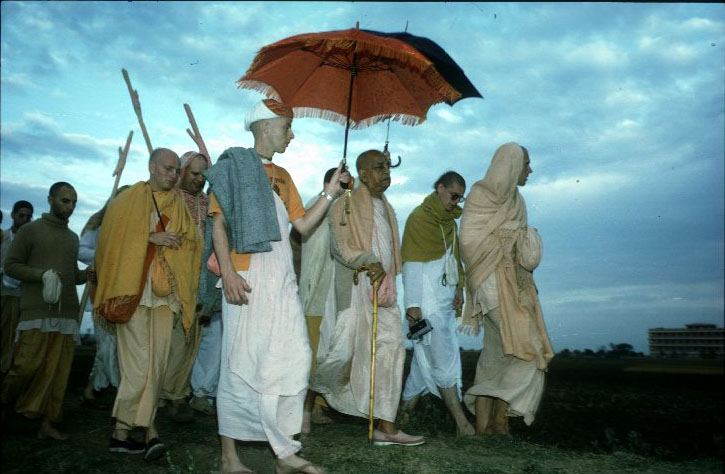 Today I was at a college and these three guys were walking and so I stopped them and handed them all a book. Immediately the middle guy got some crazy expression on his face and said "OH! THE BHAGAVAD-GITA! I'VE BEEN LOOKING FOR THIS MY WHOLE LIFE! THIS IS AMAZING!" He started grabbing the shirts of the two guys next to him and said, "This is an amazing book, I've aways wanted a copy of this!" He was just looking at his two friends and looking at the Bhagavad-gita he had in his hands in a state of ecstatic shock. His two friends were also favorable and interested, but not like him. They were looking at him as if he was nuts.
Before I had a chance to explain what the books are about, he just asked me, "How much?" I felt like I should at least tell them a little bit about the book. So I said a few words. But this guy just cut me off and said "I know man, this is the Bhagavad-Gita. How much?" I said "Yeah, just give a donation to help with the printing and distribution cost." He gave me all the money in his wallet and just stood there still staring at the Bhagavad-Gita in awe. His eyes were really big. Then all three of them walked away, and this guy was just grabbing the shoulders of his friends, zealously extolling the Bhagavad-gita to them as they walked away.
It's so nice to witness Prabhupada's and Lord Caitanya's mercy first hand. All I can do is make a quick prayer to Prabhupada thanking him for allowing me to be of some use in his Sankirtana mission and pray that he will send me more sincere souls that I can serve by giving them copies of his books.
***
Another day I was on book distribution, stopping people, trying to find someone interested to take one of Prabhupada's books. I stopped one guy who looked like he might be interested but it turned out he was a die-hard stone-cold atheist. Since I already stopped him I was trying my best to explain how wonderful the books are in hope against hope that he may somehow or other take a book anyway, but it wasn't working.
Then I noticed over his shoulder in the distance that there was this young lady walking towards me, looking me right in the eyes and holding out in front of her a ten dollar bill. It was kind of odd – the way she was walking towards me, a big smile on her face, her arm fully extended out in front of herself and a ten dollar bill in her hand, just walking along towards me like this. Then when she got close to us she stopped right behind the atheist that I was trying to get to take a book, still looking at me and holding out this ten dollar bill. Both me and the atheist stopped talking, looked at her, looked back at each other and both smirked. The atheist just handed me back the book and walked away without saying anything. Then I looked back at this young lady who I never had met before and she just smiled happily at me and said "Can I have one of those Bhagavad-Gitas?"
I said "yes" and handed her the Bhagavad-gita and she quite contently put the money in my hand. Still a little bewildered at the oddness of the whole thing, I asked her "How did you know what I was doing and that I had Bhagavad-gitas?" Then she looked over at this guy who was standing a little ways away and I recognized him from earlier that day. He had taken a Bhagavad-gita. She basically told me that after this guy got a Bhagavad-gita from me they met and they were talking about the Bhagavad-gita and reading it together. She became so interested she asked him to help her find me, so she could get a Bhagavad-gita also. Then she thanked me very much for doing such a wonderful thing (distributing this wisdom to the world), and walked away with the supreme transcendental gem in her hands.
***
On another occasion I was just presenting the Bhagavad-gita as I normally do in a very simple way to one young man and he was so grateful and excited to get this book he became overwhelmed. He could not believe that these original 5000 year old texts that hold secrets to all life, the mind and consciousness are still there, for him to read! The stuff that the most intelligent people in the world spend their whole life pondering on without any fruit is now in his hands in perfect clarity and understanding and all he has to do is simply read it. He became so excited to get these books he literally wasn't speaking in full sentences, he would start saying one word and then cut himself short and start saying another word and he wasn't making any sense, he was so excited. Then he realized he was just talking crazily and he just looked at me and stopped for a moment and we both just smiled in a very satisfied way and he said "Thank you." Then he just kept on saying "Thank you. Thank you. Thank you." So I said to him "Thank you". And he walked away very grateful. And a little dumbfounded.
THANK YOU SRILA PRABHUPADA FROM HIM, AND FROM ME!
If you would like some of Srila Prabhupada's original, authorized (pre-1978) books to bring with you in your daily life to distribute, please go to: