Devotees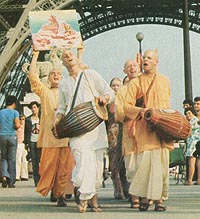 Tribute to His Grace Somaka Prabhu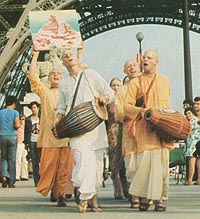 Hare Krishna, prabhus. I would like to submit a few words in praise of His Grace Somaka Prabhu. I was present when he arrived in Paris in 1972 with his wife and her brother. We could immediately see his great dedication and seriousness of purpose. There were about thirty-five devotees at the time–men, women and children–all living together in a one family house in Fontenay-aux-roses, a suburb of Paris. All of
Soon after his arrival, Somaka Prabhu became the temple commander. He enjoyed going out on sankirtana to chant and distribute literature and he and his wife and brother-in-law were soon initiated.
A few years later his wife was struck by a truck while carrying a box of Srila Prabhupada's books across the street. Srila Prabhupada heard of the circumstances under which she left her body and declared that she was with Krishna. Somaka Prabhu absorbed himself more and more in sankirtana and preaching. He especially enjoyed transcendental theater and often acted out the pastimes of Sri Caitanya Mahaprabhu. I remember very vividly him playing the part of Chand Kazi at the New Mayapur Gaura Purnima festival. I also heard that when his sankirtana party was once arrested, he engaged everyone in producing plays hour after hour in the jail cell.
Somaka prabhu was a humble soul and sincere follower of Srila Prabhupada. Before giving up his body he said he was not interested in living any longer in this material world. We can be sure that all of the wonderful service he performed guaranteed him a permanent position in devotional service in the Lord's sankirtana pastimes.
Humbly submitted by Locanananda dasa