Preaching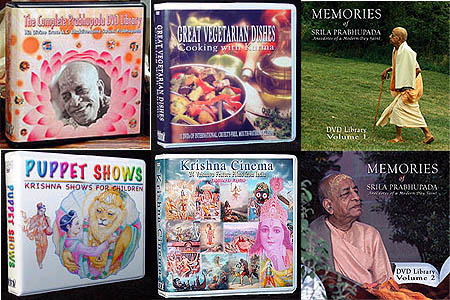 Published on December 7th, 2004 | by Madhudvisa dasa
5
Spiritualize Your Television–Krishna Conscious DVDs Now Available!
The second release of the Srila Prabhupada DVD set is now available. This is the "INTERNATIONAL EDITION" with subtitles in English and 19 other languages! Also we have Krishna Conscious Childrens Shows, Kurma's Cooking DVDs, Krishna Cinema–Devotional films from India as well as Prabhupada Memories DVDs.
Hare Krishna! Please accept my humble obeisances. All glories to Srila Prabhupada! Now there are so many Krishna conscious DVD's you can use to spititualize your television at
www.krishna.tv
The International Edition of the Srila Prabhupada DVD set is now available. That includes subtitles for 19 different languages: English, Spanish, Malay, Swedish, Czech, Croatian, Lithuanian, Estonian, Chinese, Finnish, German, Turkish, Indonesian, Bulgarian, French, Thai, Italian, Hungarian and Danish.
Never before in the history of Vaisnavism has a sampradaya acarya been accessable in both sound and picture after his departure. Srila Prabhupada's unique stature as the Founder-Acarya of the Hare Krishna Movement establishes his special position as the spiritual authority for all who follow him. These historical videos are imbued with his potency to transmit transcendental knowledge to the attentive viewer.
International Edition, 23 DVD set.  $99

Memories of Srila Prabhupada–Part 2–Anecdotes of a Modern Day Saint 20 DVD set  

Volume 1

   Volume 2
Spiritual teacher to thousands, A.C. Bhaktvedanta Swami Prabhupada is known by scholars worldwide as the topmost ambassador of Vedic knowledge. In Memories you will hear of the wisdom he imparted to his disciples and of his saintly qualities, which inspired so many to follow his example.
40 DVDs. Volume 1 & Volume 2. 20 DVD sets.  $99 per volume.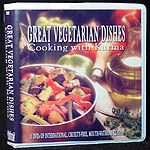 Broadcast on television from New York to London to Sydney, Cooking With Kurma brings the best of cruelty-free cooking into your kitchen.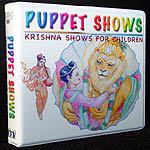 Krishna conscious puppet shows, plays and cartoons for children.
D1 – THIS IS LIFE
The amusing story of a man who repeatedly tries to convince Krishna that money can buy happiness. Set in contemporary India.
D2 – MAHABHARATA
Classic movie on the events leading up to the great battle of Kurukshetra. Entertaining and energetic!
D3 – MALIK
"Why do bad things happen to good people?" Set in contemporary urban India, this film portrays the orphan Raju, who is wrongly accused of stealing the Deity's crown jewel…
D4 – HARI DARSHAN
Evil King Hiranyakashipu is eager for his son Prahlad to follow in his footsteps. But Prahlad has no interest in demoniac affairs. and instead converts his classmates to worship Krishna. Enraged, the king attempts to torture his son into submission.
D5 – SITA'S WEDDING
The events leading up to the wedding of Rama, the warrior king, and princess Sita are gorgeously dramatized in this award-winning film.
D6 – TULSI DAS
Tulsi Das devotes his life to worshipping Lord Rama. He translates the sacred Ramayana into the local language of his people…
D7 – THE ADVENTURES OF RAMA
Continues where Sita's Wedding left off, detailing the challenges Rama, Sita and Laksman face during their forest exile.
D9 – GOPAL KRISHNA
Charming film depicting Lord Krishna's childhood activities in Vrindavan. Replete with the special effects of India's movie industry, lavish sets and costumes.
D10 – NIMAI OF NADIA
Devotional classic portraying the life of the avatar of Radha-Krishna, Lord Caitanya Mahaprabhu, from His birth in Nadia to His accepting of the sannyasa order.
D11 – NILACHALA MAHAPRABHU
Sequel to Nimai of Nadia, portraying Lord Caitanya as he revolutionizes Indian society.
D12 – DHRUVA
Offended by his stepmother, young prince Dhruva performs austerities to gain a kingdom rivaling that of his father. Watch him gain the audience of none other than the Supreme Lord Himself.
D13 LORD GANESH & THE SHAMANTAKA JEWEL
How does Ganesha get an elephant's head, and what does his curse have to do with the Shamantaka jewel which produces unlimited amounts of gold? How does Jambavan, the great bear, obtain the precious gem, and why does Krishna have to fight him?…
D14 – RAMAYANA
TV Drama filmed at the amazing Palace of Gold in West Virginia. This rendition of the famous epic shines with the talent of its western Vaishnava actors. Also featured: NANDULAL
D15 – TULASI VIVAHA
The story of Tulasi Devi. Princess Vrinda marries a demon who becomes invincible in battle due to her unflinching chastity. Lord Vishnu must intervene to protect the universe and is cursed by Vrinda to become a stone, Shalagram. She, in turn, advents herself as the sacred Tulasi plant.
D16 – MADHVACARYA
The life of the founder of the Madhva tradition, teaching the concept of duality. Filmed on location in Udupi and the Himalaya Mountains.
D17 – SANT TUKARAM
The life of the 17th century saint who was inspired by Lord Caitanya to preach the chanting of God's Holy Names. Best film award at the Venice Film Festival in 1937.
D18 – KRISHNA & SUDAMA
were best friends at school. This film follows their childhood pastimes and parallels the direction of their illustrious lives. Includes Krishna kidnapping Rukmini and fighting the impostor Paundraka.
D19 – MEERA
From early childhood, Meera considers herself married to God, but political reasons force her into an earthly marriage with a prince. She refuses to have intimate dealings with him, so the royal court decides that Meera should die rather than have two husbands.
D20 – LAVA & KUSA
Raised in a forest hermitage unaware of their father's identity, twin brothers Lava and Kusa confront Lord Rama in battle, accusing Him of unjustly banishing their mother to the forest…
D22 – HARISCHANDRA
Severe tests face a noble king who is known throughout the universe for never swaying from his word. The sages Narada and Vishvamitra conspire to test Harischandra, but even the severest hardships cannot sway him from his word or destroy the his faith in Krishna. Happy ending.
D24 RAMANUACARYA
Three hundred years before Ramanuja appeared Sankaracyra had attempted to establish his doctrine of absolute, undifferentiated oneness. Ramanuja qualifed this oneness by the concept of spiritual variety of form and activities.
D26 – BAJARANGABALI
The events of the epic Ramayan are retold here, extolling the virtues and humility of one of its chief heroes, Hanuman, son of the wind god. Hanuman assists with the search and rescue of Princess Sita, building the bridge to Lanka, and commanding the monkey army who defeat the demons.
D27 – MAYA BAZAAR – MARKET OF ILLUSION
As the final conflict between the Pandavas and Kauravas draws near, Lord Balarama breaks His vow to marry His daughter to Abhimanyu, son of Subhadra, and instead offers her to the cowardly son of Duryodhana…
D29 – SRI VENKATESWARA MAHATMYA
In this unusual pastime, devotees of both persuasions can be satisfied because the incarnation of the Lord is Vishnu disguised as Rama disguised as Srinivas…
D32 SANT DHYANESHWAR (Jnyaneshwar)
13th century South India. Dhynaheswar's father returns to his home as a fallen sanyassi, and his family is shunned by the village caste brahmanas…
Chant Hare Krishna and be happy!